Barone Fini 2021 Pinot Grigio, Valdadige DOC, Italy, 750 ml
Barone Fini 2021 Pinot Grigio, Valdadige DOC, Italy, 750 ml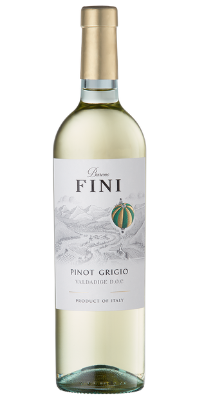 Varietal:
International Wines
Appellation:
Valdadige D.O.C., Italy
OVERVIEW
Barone Fini's flagship wine is made with minimal human intervention and from 100% handpicked Valdadige grapes, found in the pristine northern Italian Alps. Here, altitudes range from 150 – 300 meters above sea level to produce a beautifully bright, natural wine that is incredibly approachable and easy to share.
TASTING NOTES
Delicate floral aromas with notes of lemon delight the nose. Refreshing flavors of honeydew and ripe apples are balanced with a bright acidity and warm minerality. Mouthfeel is crisp and lingering.