Christophe et Fils 2020 Chardonnay, Petit Chablis, Burgundy, France, 750 ml
Christophe et Fils 2020 Chardonnay, Petit Chablis, Burgundy, France, 750 ml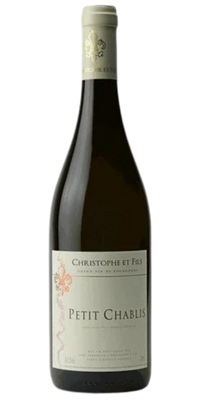 Varietal:
International Wines
Appellation:
Burgundy, France
From The Winery:
The aromas of sweet preserved lemon, wet stone, flint and sweet and dry herbs are a clear sign of the region and grape.
Vinification:
This wine is naturally fermented in stainless steel. Malolactic fermentation is completed in all of Christophe's wines and bottling takes place after 7-8 months depending on the vintage—less time for lower acid vintages and more time for higher ones. It's fined with bentonite (a natural clay) and filtered with diatomaceous earth (fossilized sedimentary algae with a silaceous skeleton).
Aging:
7-8 months in stainless steel before bottling—higher acid vintages will be aged for more time and less time for those with lower acidity.