Crown Point 2020 'Relevant' Cabernet Sauvignon, Happy Canyon , California Wine, 750ml
Crown Point 2020 'Relevant' Cabernet Sauvignon, Happy Canyon , California Wine, 750ml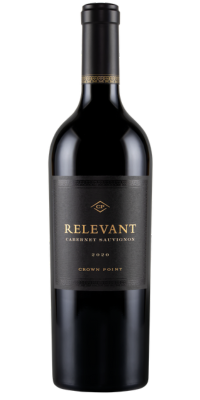 Appellation:
Happy Canyon of Santa Barbara
Cooperage:
33% new French oak
Composition:
80% Cabernet Sauvignon 10% Malbec 5% Merlot 5% Petit Verdot
[Download PDF]
From the Winery:
The mild spring and summer provided ideal temperatures ranging from the high 80s to the low 90s. Our coastal location moderated the late summer heat wave, allowing the vines to recover providing precise acidity, low sugar levels, and intriguing flavors. As a result, the 2020 vintage was considered the best over the last decade.
Tasting Notes:
Crown Point's Relevant offers a delightful olfactory experience of ripe blackberry, currant, and plum aromas artfully blended with sweet tobacco, oak, and vanilla notes. On the plate, the flavors of black fruit, cocoa, and toasted oak meld together seamlessly, with a blanced, well-structured, and silky tannin presence adding depth and length.