Kukkula 2016 'Pas de Deux' Red Blend, Adelaida District, California Wine, 750 ml
Kukkula 2016 'Pas de Deux' Red Blend, Adelaida District, California Wine, 750 ml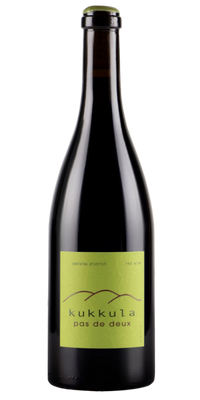 Composition:
66% Grenache, 34% Syrah
French for, ​"a dance for two, a close rela­tion­ship between two peo­ple or things"
Because this is a blend of Grenache and Syrah, and they ​"dance" beau­ti­ful­ly togeth­er, it seemed a fit­ting name.
Blend of: 66% Grenache, 34% Syrah Candied roses, bright cherries, white pepper and dried thyme show on the nose of this blend. Sour-cherry tones kick off the lively palate, which grows more dynamic, with hibiscus, oregano and marjoram flavors that intensify with time.
"Deep, lurid vio­let. Vibrant aro­mas of fresh dark fruits, smoky bacon, olive and exot­ic spices, along with a flo­ral nuance that builds with air. Ener­getic black/​blue fruit, vio­let pastille and spice-cake fla­vors slow­ly spread out and turn sweet­er on the back half. Shows out­stand­ing ener­gy and sharp def­i­n­i­tion on the ener­getic fin­ish, which fea­tures gen­tly grip­ping tan­nins and res­onat­ing flo­ral and spice notes."- 93 pts Josh Raynolds, Vinous