Native 9 2017 Pinot Noir, Rancho Ontiveros Vineyard, Santa Maria Valley, California Wine 750 ml
Native 9 2017 Pinot Noir, Rancho Ontiveros Vineyard, Santa Maria Valley, California Wine 750 ml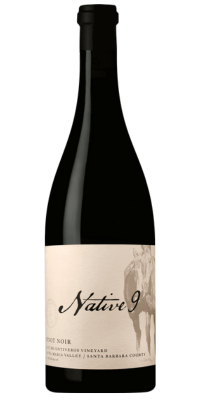 Winemaker:
Justin Willett
Appellation:
Santa Maria Valley
Vineyards:
Rancho Ontiveros
Barrel Aging:
20 Months in 66% New French Oak
[Download PDF]
From The Winery:
Following his grandfather's arrival to California in 1781, Juan Pacifico Ontiveros took ownership of the Rancho Tepusquet Land Grant at the crossing of the Sisquoc and Cuyama Rivers. Here, with his wife Martina, he built a life and a family, yet over the next several generations, the land was sold off in pieces. Now, our story continues at Rancho Viñedo Vineyard, part of the original Ranchos de Ontiveros land, and brings our family's legacy full circle—back to where it began.
A reflection of the rugged location of our originally farmed, low-yield vineyard, this wine is a true expression of its place.
Soils:
GaC2, Garey Sandy Loam, 2-9% Slopes, Eroded
Clones:
113,114,115, Benedict, 1A, 2A, Swan, Pommard 5
Stem Inclusion:
50-75% Depending on Lot